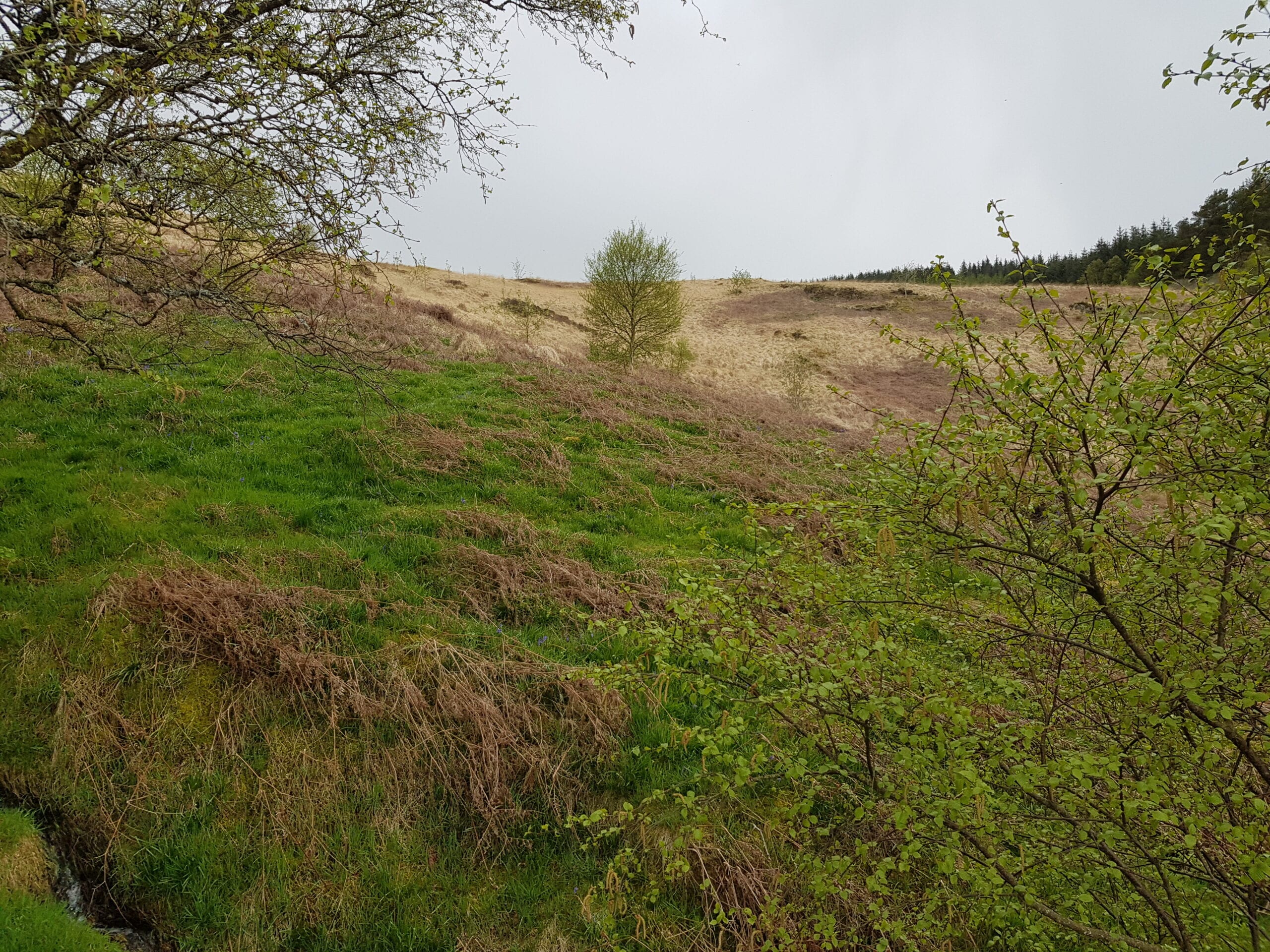 Tree regeneration – May 2021
Coetir Anian will be holding an Open Day on Saturday 5th June to coincide with the launch of the United Nations Decade on Ecosystem Restoration 2021 – 2030 and World Environment Day.
The event will be held at our Bwlch Corog site near Machynlleth where 350 acres of land is being restored to natural habitats of heathland, bog and woodland. The day will be centred on two guided walks of the site at 10am and 2pm – each giving the opportunity to enjoy brief talks about woodland and peatland habitats and the work of the project. A variety of children's activities will be available as well as a poster display about Coetir Anian in the new sustainably built shed.
The shed was built with timber harvested from our larch plantation, which is gradually being restored to native woodland species. The shed is a roundwood timber frame structure, where good design saves the requirement for milling the timbers and creates an attractive building. The walls are made from straw bales rendered with lime. The green roof is planted with sedum. The new shed will be officially inaugurated at the Open Day event.
The United Nations Decade on Ecosystem Restoration is a global initiative to prevent, halt and reverse the degradation of ecosystems worldwide. Healthier ecosystems with more wildlife provide greater benefits, such as more fertile soils, bigger yields of produce, and larger stores of greenhouse gases. Only with healthy ecosystems can we enhance people's livelihoods, counteract climate change, and stop the collapse of biodiversity.
Shed construction – the first bale going in
At Coetir Anian we aim to play the fullest part that we can during this important decade. The facts are stark on the continuing devastation of wildlife and habitats around the world. We have to turn this around. Charities cannot achieve this alone, all of society needs to be involved. We are calling on governments and businesses to contribute their immense resources into protecting and restoring ecosystems.
The project has received funding through the Welsh Government Rural Communities – Rural Development Programme 2014-2020, which is funded by the European Agricultural Fund for Rural Development and the Welsh Government. This has enabled us to carry out nature restoration work at Bwlch Corog, and to provide a range of educational activities in this wild setting.