Wales Wild Land Foundation has an opportunity for new trustees to join its Board of Trustees.
The charity is dedicated to the restoration of wildlife habitat in Wales and encouraging people to connect with wild nature. Currently our principle project is Coetir Anian, or Cambrian Wildwood, set in the Cambrian Mountains.
Coetir Anian is a 350-acre site located near Machynlleth, acquired in 2017 in partnership with our project partners, Coed Cadw (Woodland Trust). The land includes an area of 'Celtic Rainforest' ancient woodland, and a large area of degraded upland habitat dominated by purple moor grass.
The project has begun the process of habitat restoration of woodland, blanket bog and heathland. A herd of semi-wild horses graze the land, which is beginning to see the return of a variety of bird species, such as skylark, grasshopper warbler, cuckoo, red grouse and several birds of prey. The woodland is home to hazel dormice and pine marten have been seen on occasion.
The project has a significant education and public engagement programme. We work with local
Primary Schools
, where the children participate in a three-year programme of activities on site and in school. We hold youth camps for Secondary School groups where the youngsters camp for five days and learn about living in nature. We hold regular volunteer work days, and hold other activities on site.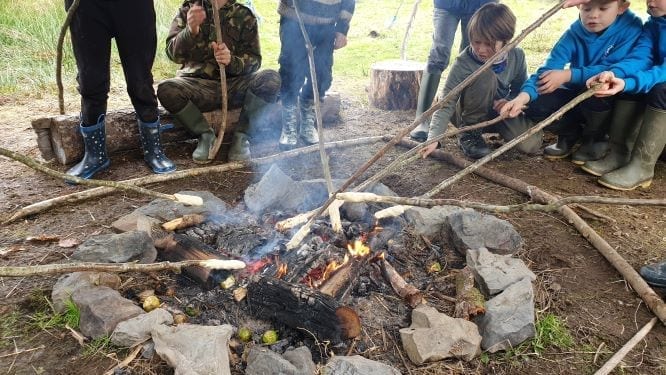 The project is run by a team of three staff and the Board of Trustees. We are currently funded by the Welsh Government's Sustainable Management Scheme, Glastir Advanced, donations and grant funding.
An opportunity has now arisen for one or more new members to join the Board of Trustees.
What we are looking for…
We are looking for people rooted in the local area with a deep appreciation and understanding of the nature and culture of Wales. Fluency in the Welsh language is desirable but not essential (the board meetings are held through the medium of English). We want to hear from people who are passionate about nature and people flourishing together.
Skills and experience we would particularly welcome are external communications, ecology, land management, education, nature connection, local history and folklore, finance or charity governance.
By joining our Board of Trustees you will be supporting a pioneering nature restoration project in an exciting phase in its journey, which is creating opportunities for children and adults to connect with wild nature. And you will be working with the team of staff and trustees to develop ideas for the future of the charity.
If you would like to express your interest in this role or make further enquiries, please contact us through the Contact Us page of our website.